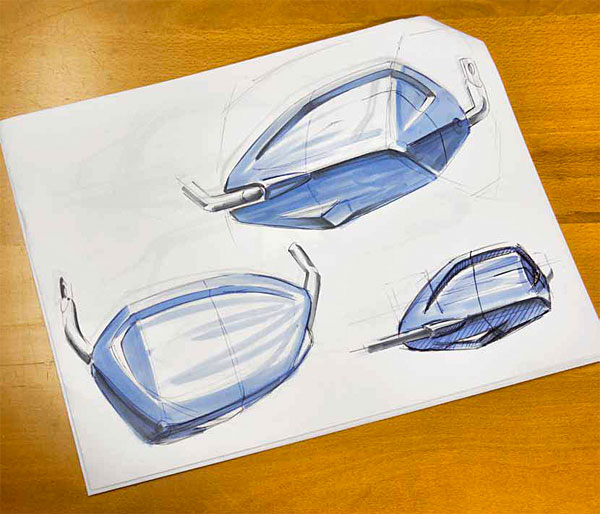 Hundreds of high-quality Wunderlich brand products in our catalog are second nature for many BMW riders. The amount of development effort that lies behind every single part often remains hidden.
Technicians, engineers and developers meet at least once each week. They rack their brains, create and review ideas, abandon, discuss and calculate them. When the developers meet at Wunderlich, creativity knows no limits. Erich Wunderlich considers his team a think tank. Most ideas relating to new, innovative products originate in-house or are developed together with selected partner companies.
If the team deems an idea worthy, they address the question of whether the product has a chance on the market. Does something comparable already exist? What is the marketing team's opinion on it? And finally, is it feasible in the first place?
Once a decision has been reached, the new product begins to mutate from theory to practice as a design drawing. If it is a turned, milled or bent sheet metal part, a 3D CAD drawing is already prepared at this stage from which a first prototype will be created in the two company milling centers or in the prototype workshop. Then, through meticulous manual work, a model is developed with which preliminary tests are usually performed.
If it is a complex 3D product, the design, form and function are evolved on a volume model made from easily shapeable materials such as Claytone (a type of plasticine).
This is where Wunderlich's state-of-the-art research and development department comes in: the finished model is scanned with modern 3D scanners that transmit surface, form and measurements to the CAD system with high precision. A so-called rapid prototyping printer now creates the actual prototype from the 3D functional model in a plastic printing method (similar to an inkjet printer, but instead it creates 3D forms with a hot plastic jet). In addition, there are two CNC milling centers to fall back on. For the time being, the test sample receives the final touches when it is adjusted to the vehicle.
The actual test will of course take place in practice. The work pieces are scrutinized in detail, tested, subjected to strain and evaluated again and again. Whether on the racetrack or on extensive test drives across all continents, every part has to withstand extreme conditions. Even – and in particular – in this development stage, many products are rejected and discarded.
First concept drawings for a new hand protector

On the basis of the drawings a raw component is made

from Claytone

Capturing the Claytone model via laser scan

The scan is developed into a 3D construction drawing
If all hurdles up to this point have been overcome – and the bar is set high – the event even most bikers are afraid of is next, namely the TÜV inspection. But thanks to our high product and quality standards, the dialogue with the TÜV Rheinland Centrex is no problem for us. After all Wunderlich is one of the first companies in the motorbike industry that was DIN/EN/ISO 9001:2001 certified, the KBA norm. The procedures it specifically defines and monitors guarantee that all security-related rules and regulations are adhered to. It goes without saying that the testers nevertheless check and extensively test every minute detail.
The product is finished, approval has been granted. Very often it can take five to six months to get from the very first idea to this point, for new technologies even up to three years. It is entirely intentional that not every product goes into series production. "A certain share of our budget simply has to be spent on promoting innovative projects that give impetus to or carry forward technologies in order to explore what's possible", explains company director Wunderlich. As an example he names the expensive development of the first ever gas conversion of a motorbike that is legal for road use. It never went into serial production but still generated an enormous amount of experience in the whole development team and in technology. "One of the many developments the competition was all too happy to claim as their 'own development'," head of development Frank Tholey comments with a wink.
High-tech at its best: Our 3D printer

creates the first prototype over night

ABS plastic prototype

Trial fitting of the printed prototype

The development workshop for

the trial fittings, testing, etc.
By far the largest proportion of all products that enter series production is, of course, designed for the customer. That's the only way to run production. Wunderlich makes first and small batches. For large production quantities the company collaborates with various, suitably qualified partners. Here, high quality is also a priority. No cheap labor, but closely monitored, precise manufacturing "Made in Germany". Wunderlich's partner companies are usually located in the region. Close cooperation, periodic coordination and checks are the norm. That means security for both sides and ultimately serves the customer.
One might think that the product's development cycle ends with production. This is almost true. If it wasn't for the installation or user manual. Thomas Schumann, chief mechanic and head of the test workshop, explains: "We address this issue very carefully since we are aware how annoying an illogical or complicated manual can be. The same care that we apply to developing our products is also applied to usable and comprehensible descriptions that even non-professionals can use. And if there is a problem after all, our telephone support team will be happy to assist."
Now, at last, the enormous effort we put into developing our products for our customers becomes evident. High quality, good value for money and most of all the highest possible safety are our main priorities.