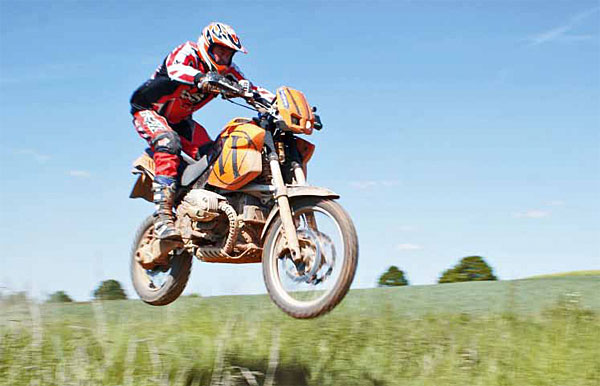 Every product that is handed over to Wunderlich's customers has been subjected to an intensive test phase. This particularly applies to the accessories for the large Enduros: the R1200GS and R1200GS Adventure.
Whenever Dirk Thelen, four times Enduro master, goes on the hunt for trophies with the powerful two-cylinder in Enduro races in North Africa, it is a safe bet that his BMW has been modified with various parts from the BMW accessory specialist, Wunderlich. These parts are often prototypes that have only just been developed and that are in the middle of the trial phase.
The path from the idea to the finished product is a long one. A large portion of this path involves testing, testing and testing again. A current example that is typical for the entire GS Enduro accessory range is the VARIO paralever strut. With this adjustable strut, the rider can choose between new dimensions of manageability or an excellent directional stability in a few steps. Recommending that the original strut is replaced with an aftermarket part engenders a lot of responsibility. The GS specialists can take this on at any time with a clear conscience.
The first prototype had barely been individually milled and finished with silver anodized supports when it needs to prove what it is capable of. Enduro ace, Mr. Thelen, dragged his GS and its VARIO struts through the south of Spain for a good week. The modified chassis was spared no torture under the tough conditions on the stony pistes across Europe's only desert, the Desierto de Tabernas, or on single tracks over the mountain ranges of Sierra Nevada. Directly after this, the paralever strut had to prove its worth on a good 6000 kilometers of tarmac.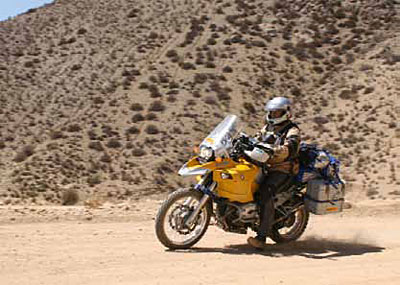 When the travel guide author and motorcycle journalist, Hans Michael Engelke, sets out on a report, he does travel at a much slower speed, but for the motorcycle the trip means intense hard work. Mostly traveling as a pair and laden down with copious luggage, a large amount of kilometers are racked up on journeys to the south of Morocco or to the northernmost tip of Europe. For the Wunderlich GS with all of its accessories and test parts, this means having to prove its reliability and long-distance qualities.
Approval for production is only given when all of these trials and test drives have been completed to the utmost satisfaction of the GS specialists from Sinzig and the complicated hurdles of the TÜV assessment have been mastered. For Wunderlich customers, this means, sticking with the example of the VARIO paralever strut, that they can expect chassis optimization at the highest possible level when they use this part. And this is thanks to an accessory that not only guarantees an optimal chassis setting but also provides total safety and reliability – put simply, "Made by Wunderlich".